J
elly
J
ars, Canning
J
ars, Spaghetti
J
ars - besides the obvious -
J
elly, Veggies, Fruits and Spaghetti what else do you put in your
J
inormous
J
umbo collection of glass and plastic
J
ars?
We keep leftovers in them.
Q-tips,
spare change,
dried beans, pasta, rice, oatmeal - anything that needs a tight lid.
spices
We use plastic jars from jelly or ketchup as one time use water bottles (my kids always get comments at practice about this).
I use glass Juice Jars that are empty to store my homemade broths in.
Water - I don't have an ice maker so we keep cold water in the fridge in Jars.
Gifts - we make cookies or cakes in a Jar, or Bean Soup (you know where you layer the ingredients)
There are so many ways to use them - what do you use empty Jars for?
J
ar
J
ar Binks, meesa loves
J
ar
J
ar Binks! (nothing frugal about
J
ar
J
ar, meesa
j
ust loves
J
ar
J
ar)
Cookie
J
ars - who stole the
cookie
from the
cookie
j
ar? Who me? Yes YOU!
Stones, Pebbles or Sand - What do you have in your
J
ar of Life? - Do you remember this
story
? The professor fills a big
J
ar first with big stones, is it full he asks? Yes was the reply. He then pours in pebbles into the
J
ar asking "is it full now?". "Apparently not". He then dumps a bunch of sand in the
J
ar which fills it up even more - but is it full yet? What about if you pour water in? Now it is full! The professor then asks "What great lesson can we learn?" And someone answers "no matter how busy we are we can always add more." "No, the lesson is if we don't put the big stones in the
J
ar first we wont be able to fit them in later!"
What are the big stones in your life? God, family, friends, health, country? Or is it other things - things that can be good but shouldn't be the big stones? Like Facebook or TV or even exercise.
I
j
ust discovered
Jenny Matlock's Alphebe-Thursdays!
I am going to be playing along! So
J
ump on over and
J
oin in on all the
J
olly good fun!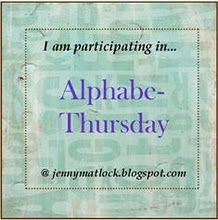 I am also linking this to Life As Mom's
Frugal Friday.
..go check out all the other great frugal posts.